One room apartment, 2 parties
The right atmosphere for you
The one room apartment suitable with 2 beds is the perfect love nest for a romantic getaway or for who want live a moment in total relax in the heart of Tuscany.
This one room apartment at ground floor with private entrance is a small chest for lovers; there is a wide and lovely veranda with all the conveniences to spend moments of relax and intimacy. The apartment is composed by a hidden corner kitchenette and a small table, perfect to wine and tuscan cuisine tasting. In addition, there is a sofa with a tv and the double bed, next to the window, is framed by a wall in original stones and bricks, romantic and charming.
The brick arches around the walls are the perfect combination between terracotta floor and the wooden beams of the ceilings to call to mind environments and ancient times.
Features
Furnished and equipped kitchenette, with stove, fridge and all the necessary tools to prepare any kind of food;
Cozy living room with sofa bed, table and satellite tv;
Bedroom with double bed and wardrobe;
Bathroom with shower;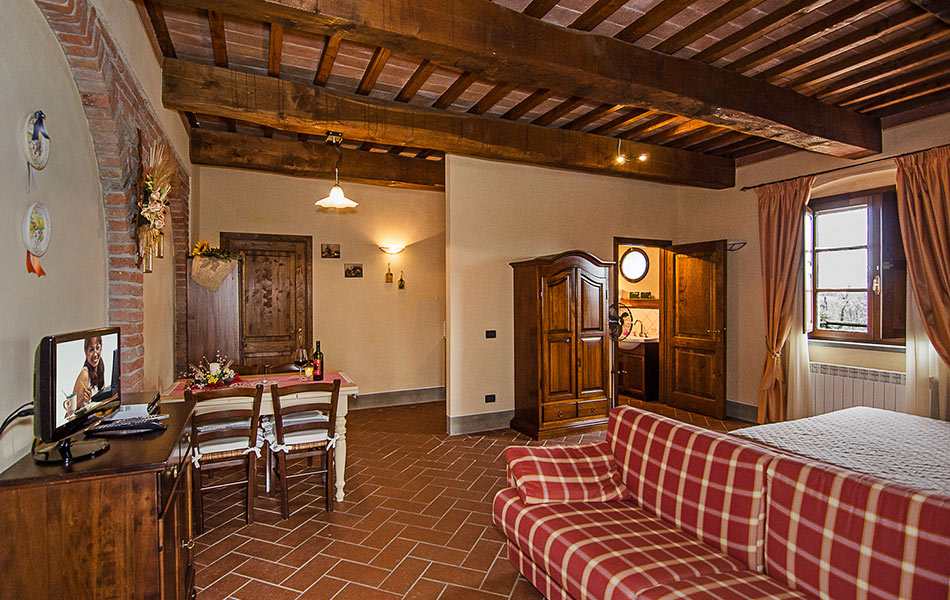 How to book
You can call, fill out the form here or write on Facebook. We'll contact you as soon as possible. If you are looking for the location for a romantic weekend or a perfect place for your wedding, Valliferone is perfect for you! We are waiting for you!
Elisa e Paola
Contacts to book
Address: Via Volpaia, 6 – 56042 Crespina PI
Phone: 050 634017